Posters allow you to convey information or ideas clearly and effectively. Microsoft PowerPoint is hardly the first tool that comes to mind when it comes to creating posters. In this article, however, you will learn how to create and print posters from PowerPoint.
Why Create Posters in PowerPoint?
For one, since you are likely to be familiar with PowerPoint, you will find it easier to create a printable poster in PowerPoint than other programs. You can quickly manipulate slides and their content in PowerPoint.
For another, PowerPoint provides options that allow you to quickly print and share posters.
How to Make Posters in PowerPoint
Find the Right Template and Use It
Ideally, you should use a poster template. This way, you get to save time since you won't have to design every element in your PowerPoint poster. Otherwise—if you prefer to start from scratch—you will find yourself spending a lot of time drawing boxes and making space for content.
With the right template, the poster creation process becomes a lot easier. All you have to do is find a template that suits the occasion or style of the poster you are looking to create.
Set the Correct Dimensions (Poster Size)
When creating posters in PowerPoint, you have to get the dimensions right from the beginning. Otherwise—if you start with the wrong dimensions—you might end up having to rearrange a lot of objects or cut off certain objects (before you print the poster).
If you are looking to create an academic poster, you can use typical poster sizes. If you want to create a poster that will be used in an event, you might want to check with the event organizers to find out if there are specific requirements to which your design must conform.
This is how you set the dimension for a slide that will be used as a poster: Go through Design > Slide Size > Custom Slide Size.
On the Slide Size window, specify the correct figures for Width and Height.
Before making changes, we strongly recommend you find out the required dimensions for a poster. Nevertheless, you may want to consider these common sizes for posters:
Academic poster templates: 36×48 inches
Movie posters: 24×36 inches
Average sized poster: 18×24 inches
After you specify new dimensions for a slide, PowerPoint might ask you whether you want to use the Maximize or Ensure Fit option.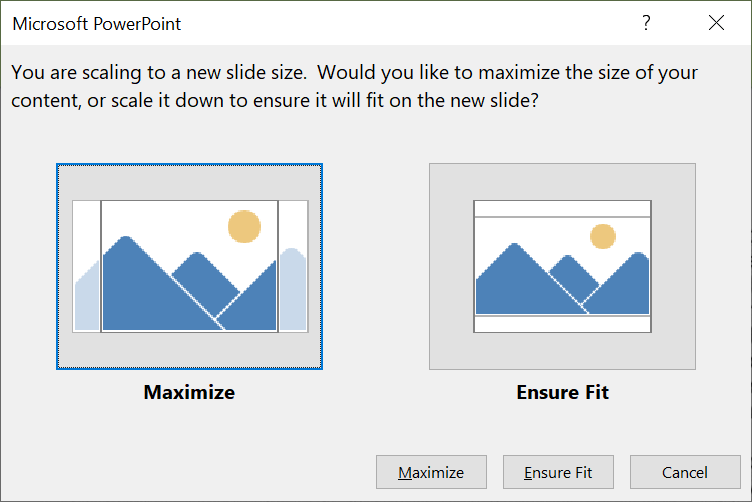 Since you are looking to deliver a poster that is likely to be larger than your PowerPoint slide, select Maximize.
Even after you confirm the recommended dimensions for a poster, you will do well to check with your printer or printing service (if you plan to print the poster). The printers have to be able to accommodate the size you selected.
Add the Poster Content
Assuming you are done with the visual elements and infographics on the slide, it is time you started adding content to it. By content, we are referring to the information that engages viewers.
Text elements dominate most posters, but you still have to use them the right way. Pay attention to the font sizing (relative to other elements). While the best posters aim to contain as much information as possible, you must avoid designing a slide with excessive texts (overly wordy).
Keep the poster's content scannable. Viewers generally scan posters or pages to quickly find out what's important. So, we recommend you use styles—such as bullets lists—that break up your content and enhance readability. You might want to rewrite long paragraphs or even delete some sentences.
Add Images and Similar Items
You can drag and drop images or other design elements right into the slide. At this point, you have to add every visual element you want to appear in the final poster design. If necessary, you can then move the elements to the right spots or rearrange them.
For images used in posters, you have to check and confirm that they are large enough to be printed without causing quality issues. Ideally, you should only add images and visual elements that are 150 dpi or higher resolutions.
How to Print Posters in PowerPoint
Step 1: Choose a file format for printing
The file format and file size are the factors that determine the quality of an image when it gets printed. Ideally, you should be looking to save your slide in a vector-based image format. However, if you are to make do with a raster-based image format (raster-based image formats are more popular), then you have to save it at the highest possible quality.
TIFF is one of the best digital formats for large prints. TIFF files are very compatible—they can be opened in any device or platform. PDF is another decent format for printing.
Step 2: Save the slide in your preferred format
In step 1, we established that your poster in PowerPoint exists as a slide. To print the poster, you have to convert it to an image file.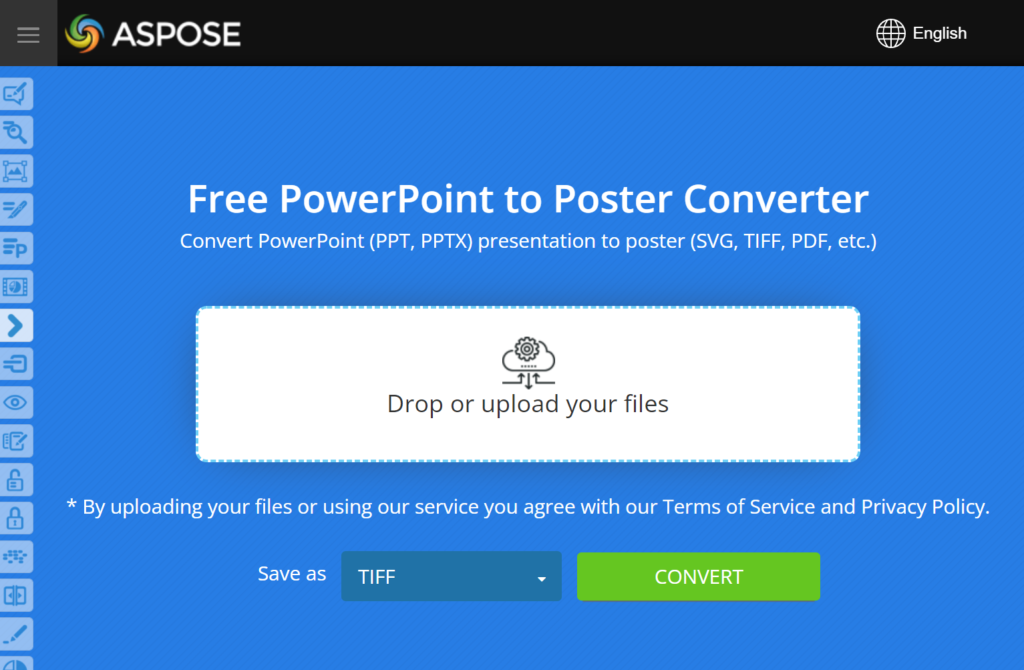 If you chose TIFF, you can use Aspose PowerPoint to Poster Converter to convert the slide to a TIFF image. You can also use this Aspose service to convert your slide into PDF or any image format (JPG, PNG, and others).
Step 3: Send the file to your printer
Go through the preview. Make adjustments (if necessary).
Posted in
Aspose.Slides App Product Family