In this article, you will learn how to convert images (JPG or JPEG, PNG, etc.) to PowerPoint presentations (PPTX or PPT).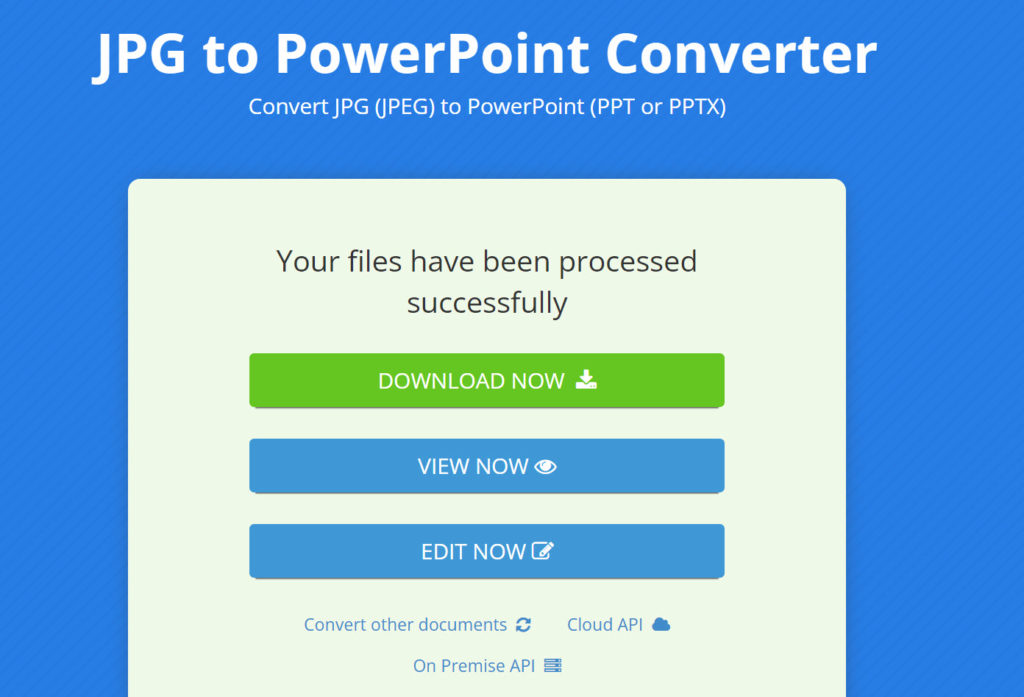 Why Should I Convert Pictures to PowerPoint?
Images and presentations differ in many ways. But if you have a series or group of pictures that can serve as the slides in a presentation, you may want to place those images in a presentation directly. And this means you won't have to create a presentation from scratch.
For example, if you are looking to give a presentation on product training, you will need images of the individual products. And those images of individual products are (potential) slides in a presentation. In such a scenario, you will do well to convert those images directly to a presentation.
How Do I Convert Images to PowerPoint?
Method 1: Use Aspose FREE Image to PowerPoint Converter
The image to PowerPoint transformation process involving the Aspose JPG to PowerPoint Converter is easily the most straightforward method of obtaining a presentation based on pictures. All you have to do is upload the images you want to see as slides in your PowerPoint. And the converter does the rest.
If you want to convert JPG images to PowerPoint, follow these instructions:
Go to the JPG to PowerPoint page at https://products.aspose.app/slides/import/jpg-to-ppt
Click Drop or upload or file.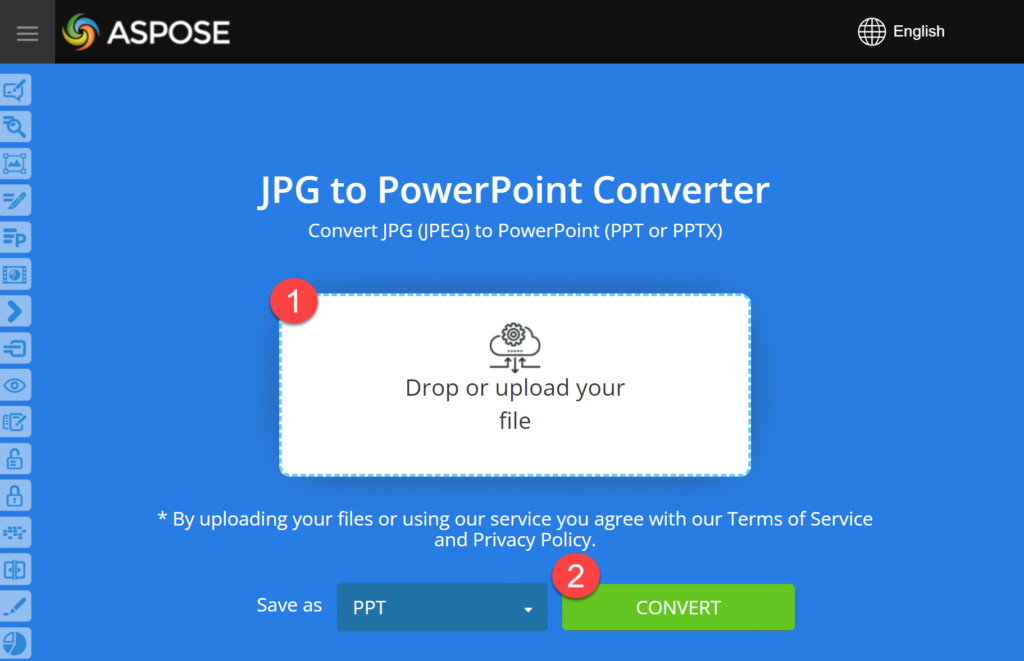 Select the JPG files you want to convert to a single PowerPoint presentation on your computer.
Click the CONVERT button.
Wait for Aspose JPG to PowerPoint converter to do its work.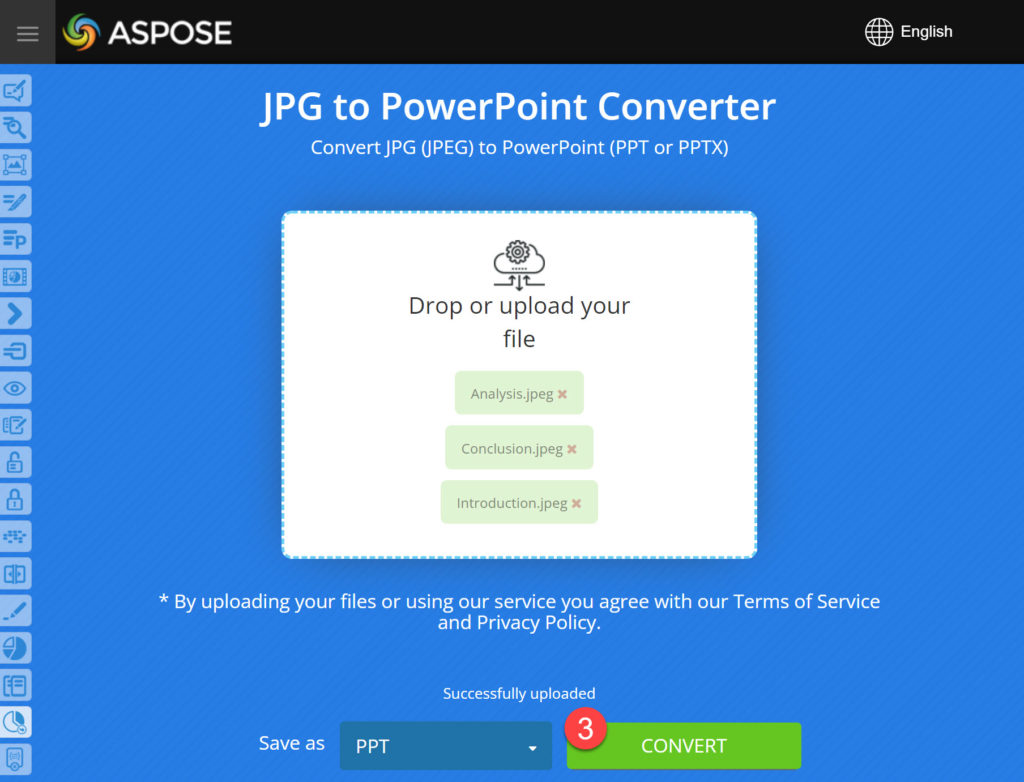 Click the DOWNLOAD NOW button to get your PowerPoint file.

Or you can type in an email address and click the message icon. The email address will receive a download link.
If you want to convert PNG images to PowerPoint, the same steps (1 – 6) apply. The converter here also accepts pictures in the PNG format. Nevertheless, Aspose provides a PNG to PowerPoint Converter.
Changing the Order in Which the Images Appear
To change the order of images in the resulting PowerPoint presentation, simply drag and move the slides.
Note: You can always access Aspose converters on any device. Essentially, Aspose converters are web pages loaded in browsers. This means you can perform image to PowerPoint conversion tasks on any medium or device (as long as you have access to the internet and a web browser).
Method 2: Insert the Images in Microsoft PowerPoint
If you have Microsoft PowerPoint installed on your computer, you can actually select images and use them as slides in a presentation.
Go through these steps:
Open the PowerPoint app on your computer.
Open an empty presentation.
Go to an empty slide.
From the Insert tab, around the Images group, click Pictures. And then click This Device.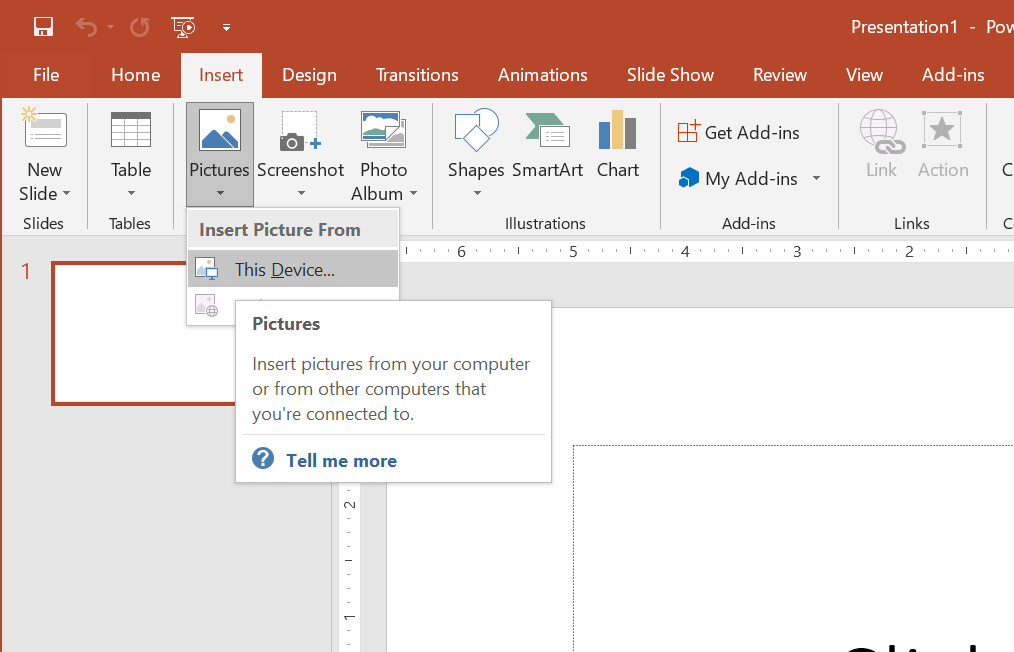 Select the picture you want to insert.
If necessary, resize the picture to fit the slide.
To insert another image, perform steps 2-5.
Using Another Image to PowerPoint Procedure
Or depending on the PowerPoint version you have installed on your computer, you may be able to insert a photo album directly, which means you get to insert several images at once. Follow these instructions:
Open an empty presentation in Microsoft PowerPoint.
Assuming you are on an empty slide, from the Insert tab, click Photo Album. And then click New Photo Album.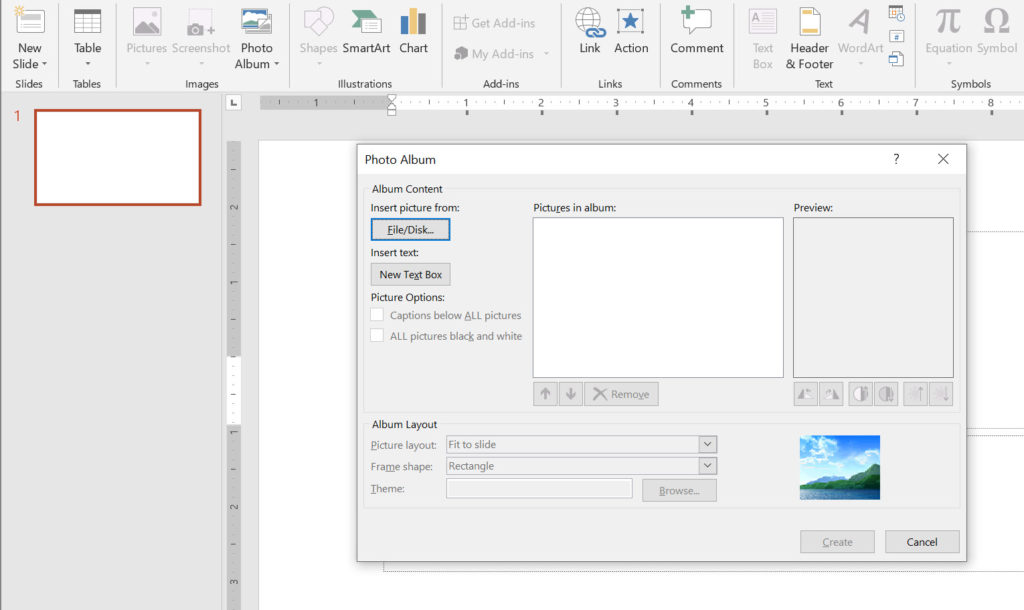 Under Insert Picture From:, click File/Disk.
Now, you have to select the photos you want to insert into the presentation.
Under the Pictures in Album box, you can manage the inserted images and their positions.
To move an image up or down (slide position), click the image (to get it selected) and then click the arrow up or down button.
To remove an image, click the image (to get it selected) and then click the Remove button.
If you know what you are doing, you can apply formatting options or make changes that define the image to presentation process.
Click the Create button.
Microsoft PowerPoint will now add the selected images (based on your instructions) as slides in the new presentation. Oh, and you may want to delete the first slide.
TIP
If you are looking to implement conversions involving images and presentations in your applications or projects, you may want to get Aspose.Slides for .NET, Java, C++ , or another language.
Posted in
Aspose.Slides App Product Family