The screen recording function in PowerPoint is one of the program's lesser-known features. PowerPoint is ridden with so many obscure capabilities, so it is hardly a surprise it was bundled with screen capture functions.
Whether you are looking to record your screen to demonstrate an important process or you want to capture a system event related to the topic you are presenting, PowerPoint's built-in recorder will come in handy. In this article, you will learn how to record your PC screen using PowerPoint in Windows.
How to Use PowerPoint Recorder
While the PowerPoint recorder lacks many features found in premium screen recording programs, its down-to-earth approach to the recording process makes it a great tool for users looking to capture visuals on their screen quickly without no fuss.
This is how you record your screen using PowerPoint:
Step 1: Open the PowerPoint app and go to the Insert tab.
Step 2: Click Screen Recording.
PowerPoint will minimize its window now. You should see the screen recording dock around the top of your screen.
By default, PowerPoint is set to record your audio and cursor. But if you want PowerPoint to do things differently, you can make changes to the options on the screen recording dock.
First, you can specify whether you want PowerPoint to record your system's audio and also specify whether you want PowerPoint to record your pointer. Then you can click Select area to specify the area of your computer screen you want the recording to cover.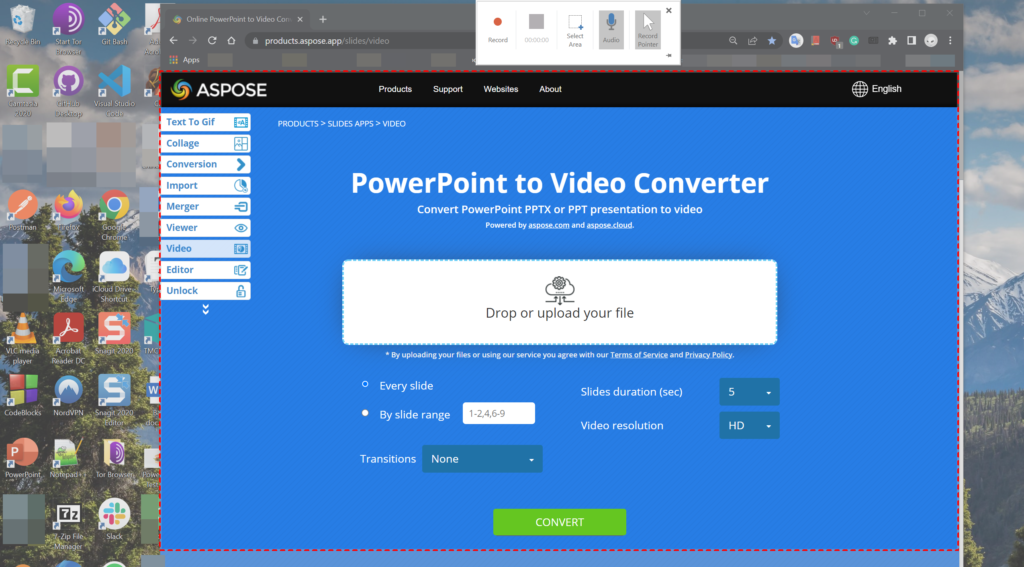 Step 3: Assuming you are satisfied with the recording options, click Record.
PowerPoint should initiate a 3-second countdown now. At zero, your recording starts.
Step 4: Once you finish recording, move your cursor back to the dock location around the top of your screen. When the dock reappears, click Stop.
The screen recording will now appear on your PowerPoint slide.
PowerPoint automatically embeds the video file with your presentation.
Step 5: Save the file
If you want to save the recording as a video file somewhere (instead of leaving it in your PowerPoint presentation), you have to right-click the clip on the slide, select Save media as…, specify the folder to which you want to save the file, and then click Save.
TIP: Aspose provides a full-featured PowerPoint to Video converter that allows you to create interesting, engaging videos based on slides in a PowerPoint presentation.
If you decide to keep the clip in your PowerPoint presentation, you may consider making some adjustments to the clip. In that case, you will do well to see the next section on editing screen recordings in PowerPoint.
How to Edit Recordings in PowerPoint
We earlier established that the screen recorder in PowerPoint is not featured-packed as proprietary screen recording utilities. The same thing goes for the tool that functions as a video editor for recordings (if this can be considered a serious editor at all).
PowerPoint provides just enough functions that allow you to trim your video and specify settings that determine how the video plays in your presentation. There's also an interesting feature that allows you to apply a style to the video frame.
1. Trimming a recording
If you want to remove some parts (a few seconds, for example) in your screen recording, you can trim the video right in PowerPoint. To trim a recording, right-click it and then select Trim.
You should see the Trim Video window. At this point, you can adjust the start and stop times by dragging the green and red bars in the appropriate directions. The trimming function is quite basic, to be fair.
Once you are done trimming your video, click OK.
PowerPoint should now take note of the changes, and it will be reflected the next you play the video.
2. Specifying settings for playback
To define rules that determine how exactly PowerPoint plays your screen recording in a presentation, you can specify your preferred settings for the video playback.
Here, you must begin by right-clicking the recording and then selecting Start. You should see a submenu with the options that control the video playback. We strongly recommend you select the option you feel works best for you.
In Click Sequence: If you want your video to play in the order (based on actional sequences) that you already specified, select this option.
Automatically: If you want the video to play automatically once it appears or comes on, choose this option.
When clicked on: If you want the video to play when you click it, select this option.
3. Using frame styles
Depending on the content of your video recording, a frame style may be a great addition in terms of visual appeal. Ideally, you should consider applying a frame to your video if you know what you are doing.
To apply a frame, right-click your video and then click Style. You should see a large library of frame styles in a sub-menu.
To see a live preview of how the frame will look in the actual video, hover your cursor over the frame. Once you find a frame you like (or one that suits that video), select it.
Well, that will be all on recording PCs' screens using PowerPoint in Windows.
Posted in

News, Aspose.Slides App Product Family