A slide layout defines a presentation's communication structure and has a strong effect on that presentation's ability to captivate viewers.
Whether you are looking to introduce a new product, report financials, or conduct a year summary, you can leverage layouts in PowerPoint to get the best presentation or information delivery outcomes.
In this article, you will learn about different PowerPoint layouts and then we will walk you through some tips on creating effective layouts.
Use a Slide Master to Create PowerPoint layouts
A Slide Master is an incredibly useful tool that allows you to manage a presentation's layout from a single source. It contains complete information on the slides' layouts in a presentation.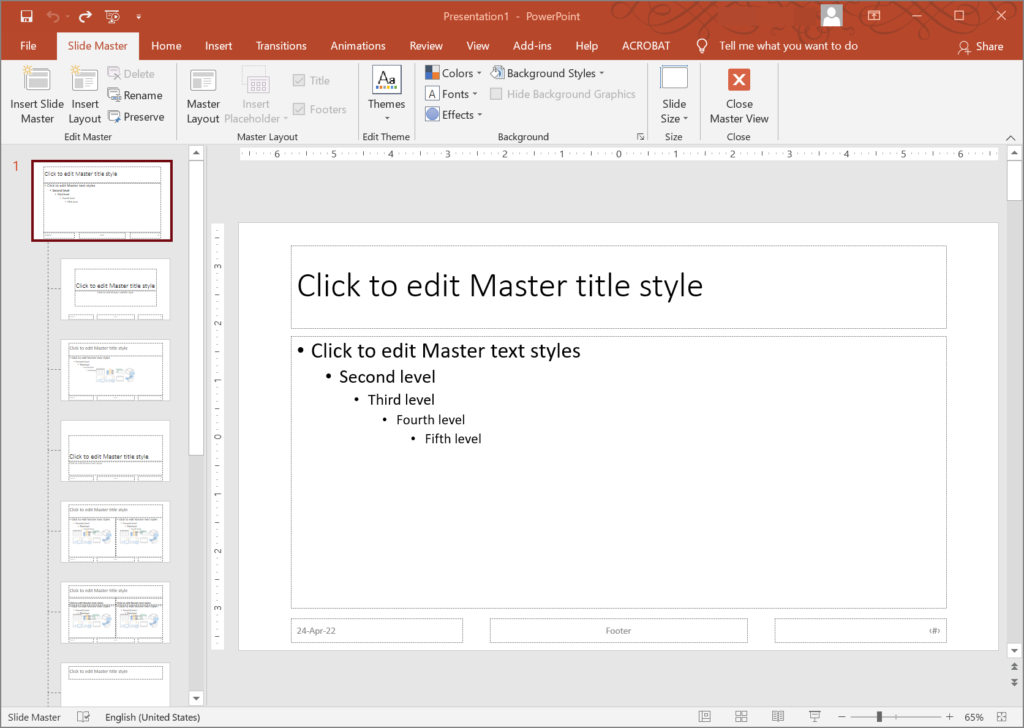 With a slide master, each time you create a new slide in your presentation, you can assign a specific layout to it. Invariably, you will end up assigning layouts to every slide.
Since a Slide Master is created from the layouts used in a presentation, the slide master setup allows you to reuse slides and repurpose content efficiently.
A Slides Master helps you to define and present your company's identity along personalized artistic lines.
It ensures consistency in company presentations and materials.
A Slide Master allows you and others to work faster or more efficiently since it simplifies the creation process for a presentation.
To use a Slide Master, go to the View tab in PowerPoint and then click Slide Master.
Tip: You may want to check out a free PDF to Video Converter that allows you to create videos based on pages in PDF documents quickly.
5 Most Popular PowerPoint Layouts
Layout 1: Title Slide Layout
The title slide layout is probably the most important slide layout that PowerPoint provides by default. When you select this layout, you see a preview of the outstanding content in your presentation.
And when you want to show your audience what content they should expect (to see and learn) from your presentation, you have to use a title slide layout.
Layout 2: Summary Slide Layout
A summary or table of contents slide layout provides your audience with a complete overview (usually in terms of chapters) of your PowerPoint presentation. Ideally, the contents of this layout should be as clear as possible.
The elements in a summary slide layout typically correspond to the titles of topics or parts of your presentation. While the table of contents slide layout is typically seen at the beginning of presentations, it is usually the last layout that gets implemented in presentations.
Layout 3: Standard Text Content Slide Layout
This slide layout is easily one of the most common slide layouts. It typically comprises the title of a slide, a subtitle (sometimes), and a primary text box. Of course, all the elements in this slide layout can be edited.
Layout 4: Content Slide Layout
Using a content slide layout, you get to insert texts and images in a logical manner on a single slide.
Given all the possible combinations of textual content and images possible, you can create and apply different variations of the content slide layout. The most common content slide layouts are based on simple horizontal and vertical permutations.
The editable elements in a content slide layout are the title, subtitle (if it exists), the body of the text, and the images.
These are other slide layouts you may want to consider:
Layout 5: Two Text Content Slide Layout
Layout 6: Impact Message Slide Layout
Layout 7: Team Slide Layout
Layout 8: Big Pointers Slide Layout
7 Tips to Creating Effective Slide Layouts
Tip 1: Start with a blank presentation
We strongly recommend you start with a blank (empty) presentation because it provides the best environment for adding elements and setting things up.
To create a blank presentation:
Open the Microsoft PowerPoint app on your PC.
Under New, click Blank Presentation.
At this stage, you may want to go a step further by deleting any element on the slide that you consider irrelevant.
But if you want to create a layout similar to something you already created, you can start with the latter.
Tip 2: Choose an appropriate theme
Themes make or break templates. The same thing goes for slide layouts. Ideally, you should create your own theme (that will be used in all your company layouts)—or you can hire a professional to design a theme for you.
Alternatively, you may want to look into the themes (built into PowerPoint) that Microsoft provides.
Tip 3: Use the Duplicate slide feature
You don't need to create the same slide content multiple times. When you want to add a copy of an existing slide, you can access the Duplicate slide function this way:
Go to the slide you want to duplicate. Right-click its thumbnail.
Select Duplicate Slide.
After the new copy appears, you can then proceed to customize the slide for your needs.
Tip 4: Write the texts for a layout while keeping your audience in mind.
Tip 5: Check and confirm that all your objects are aligned properly.
Tip 6: Use the Format Object function to manipulate object designs.
Tip 7: Keep things simple.
Posted in

News, Aspose.Slides App Product Family