You may want to split a PowerPoint into multiple files when
you are dealing with a presentation that contains a large number of slides
you want to keep specific information in different PowerPoint files
you want to apply certain effects or changes to specific groups of slides.
We are unlikely to come up with an exhaustive list of reasons for which people decide to split their presentations into separate files, so that's it for the reasons.
TIP: If you are looking to edit PowerPoint presentations online (without having to install PowerPoint on your PC), you may want to check out Aspose PowerPoint Editor.
How to Split a PowerPoint Into Separate Files
Method 1: Use Aspose Splitter to split your PowerPoint
Getting the slides from a presentation and saving them as PowerPoint PPTX or PPT files is an unconventional procedure. With Aspose Splitter, however, you can get the job done in a few simple steps.
Go to Aspose Splitter page at https://products.aspose.app/slides/splitter
Click Drop or upload your files.
Select the PowerPoint you want to split your computer.
Specify your preferred split parameters. Or you can use the default split setting.
Choose your preferred format for the resulting files.
Select PPTX or PPT if you want standard PowerPoint files.
Or you can use the default option (PDF).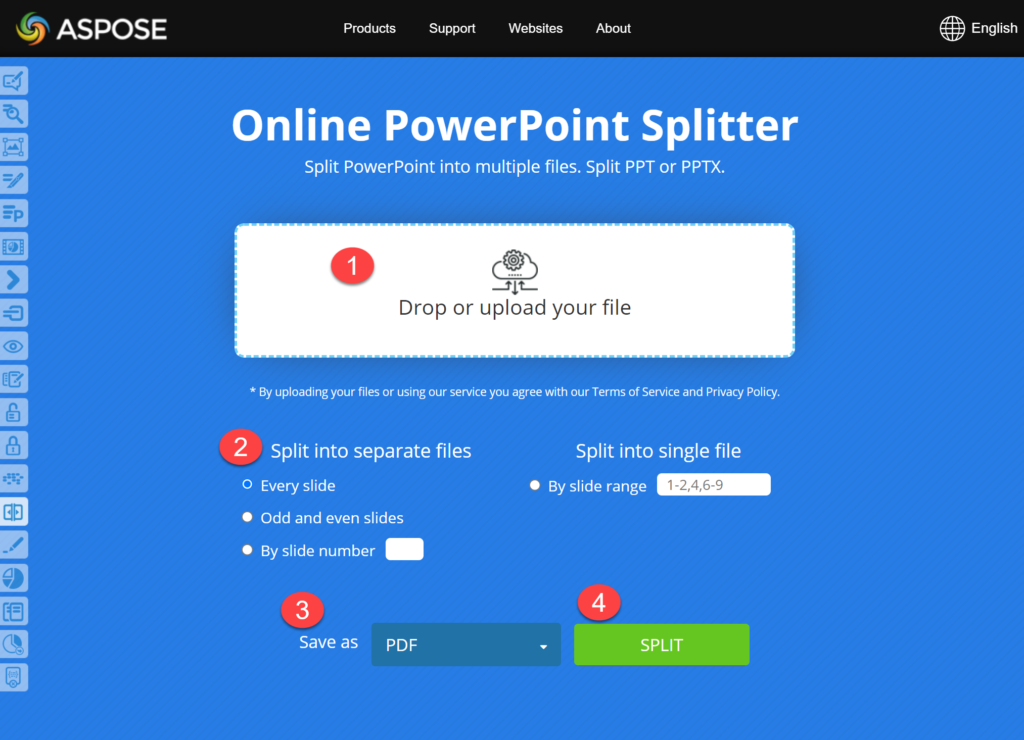 Click SPLIT.
Wait for Aspose Splitter to do its work.
Click the DOWNLOAD NOW button.
Or you can type in an email address and click the message icon. The email address will receive a download link.
Your browser should get the separated PowerPoint files.
Method 2: Split the PowerPoint Manually
If you prefer digging in, then you can split a PowerPoint presentation into several slides by copying and pasting slides. You have to copy several slides individually, so the operations for this procedure can get a bit monotonous and tedious.
If you have Microsoft PowerPoint 2016 or 2019 installed on your PC, these are the relevant steps:
Open the PowerPoint presentation whose slides you want to place in separate PowerPoint slides.
Select or highlight the slides you need from the presentation, right-click on any of them, and then select Copy.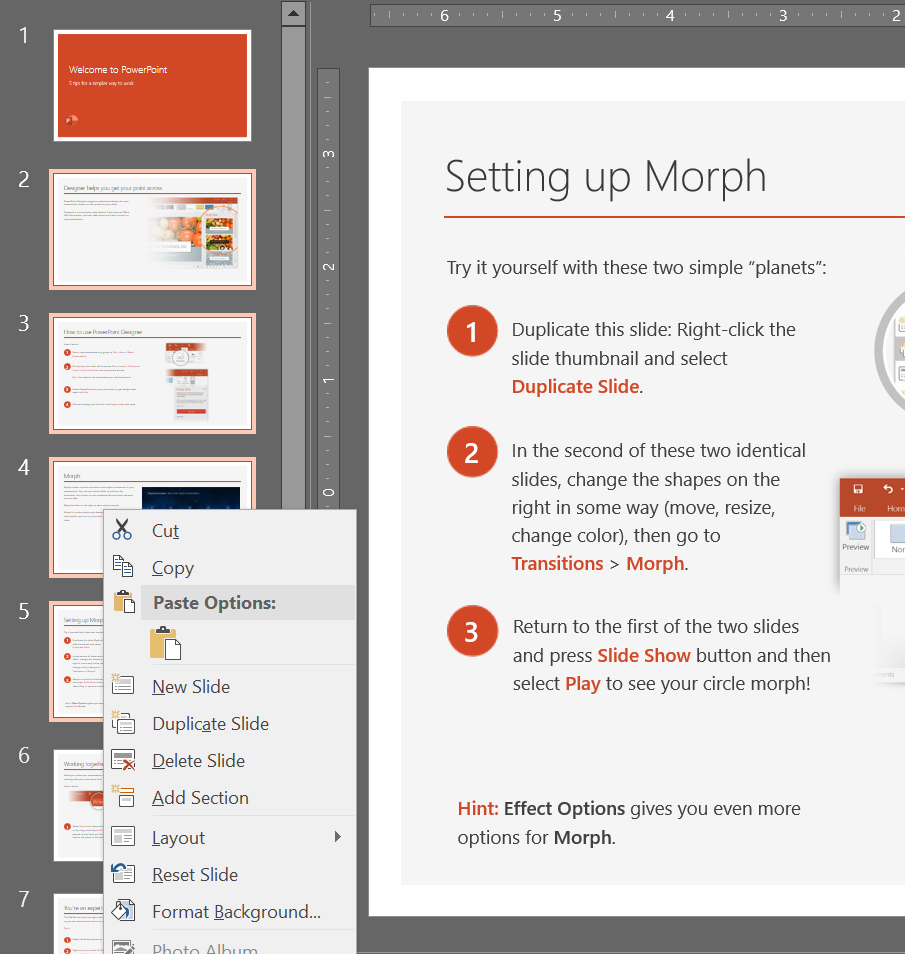 Create or open a new PowerPoint file. The new presentation should be empty.
Right-click on the position you want to place the slides.
If you want to paste the slides and apply the theme from the new (current) presentation, click Use Destination Theme.
If you prefer to keep the theme and formatting from the original presentation (the source), click Keep Source Formatting.
The slides you copied earlier from the original presentation should now appear.
If you want to add more slides, you have to do it by copying and pasting the relevant slides.
Once you are satisfied with the slides in the new presentation, go through File > Save as.
Type in your preferred name for the new PowerPoint file.
Specify your preferred format (PPTX or PPT for a presentation). Specify the location to which you want PowerPoint to save the file.
Click Save.
If you want to get more slides or a specific group of slides from the presentation and save them in a new PowerPoint file, you simply have to repeat the same steps above.
Posted in
Aspose.Slides App Product Family