By default, when you export slides in PowerPoint as images, PowerPoint outputs pictures at 96dpi. Such images won't do if you plan to print your slides or display them on a large monitor. You need PowerPoint to deliver higher quality images.
In this article, we will show you how to make changes that result in PowerPoint saving or exporting high-resolution images.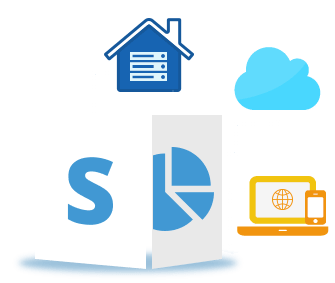 TIP: You can use Aspose Free PowerPoint to PNG converter to convert slides in a presentation to high-quality images.
Step 1: Change the Export Resolution Setting
First, we will walk you through an operation where you get to specify a new figure as the resolution for images exported by PowerPoint. This task requires you to make changes to the contents of the Windows registry, so you might want to take some precautions. For example, you can create a backup of the registry.
Go through these steps:
Go to your Start screen, search for Regedit, select Registry Editor.
If you see a User Account Control prompt, click the Yes button.
Assuming you are now on the Registry Editor window, navigate through this path depending on your PowerPoint version:
PowerPoint 2016, 2019 and Office 365 PowerPoint: Computer\HKEY_CURRENT_USER\Software\Microsoft\Office\16.0\PowerPoint\Options
PowerPoint 2013: Computer\HKEY_CURRENT_USER\Software\Microsoft\Office\15.0\PowerPoint\Options
PowerPoint 2010: Computer\HKEY_CURRENT_USER\Software\Microsoft\Office\14.0\PowerPoint\Options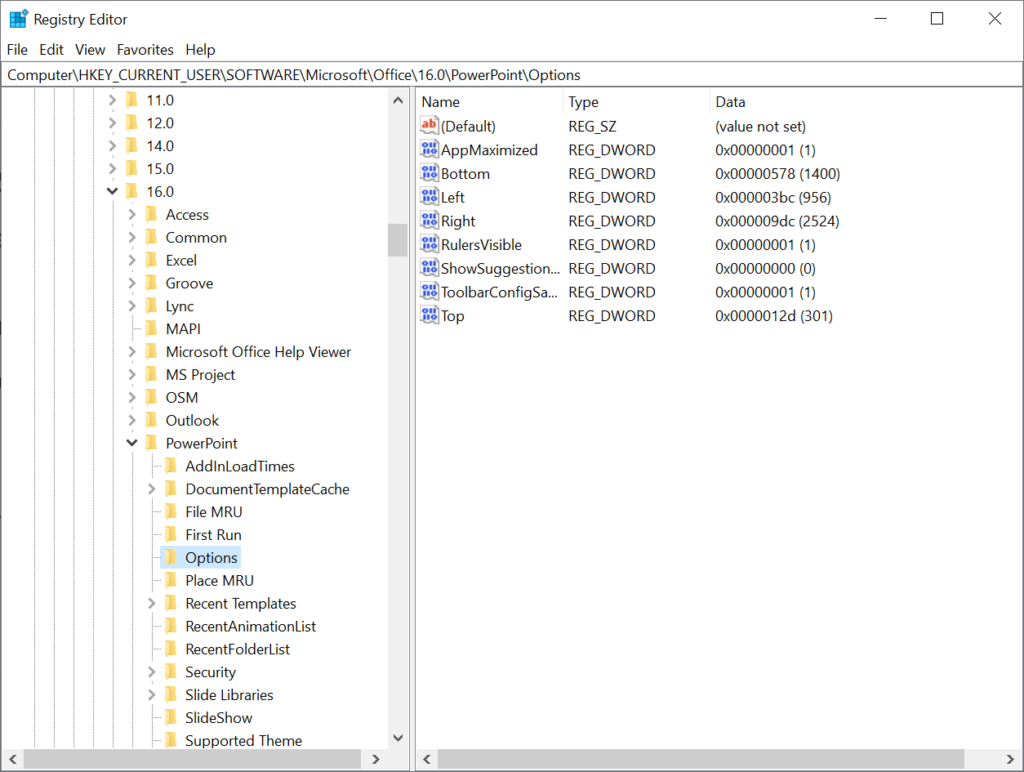 Right-click Options, select Edit, select New, and then select DWORD value (32-bit).
Type in ExportBitmapResolution as the name for the value and then click the OK button.
Right-click the ExportBitmapResolution entry you just created and then select Modify.
On the Edit DWORD (32-bit) Value window, click the radio button for Decimal.
Go through the table below to find out the correct figure for a resolution.
Decimal Value
Full-screen Pixels
(horizontal × vertical)
Wide-screen Pixels
(horizontal × vertical)
Dots per Inch (DPI)
50
500 x 375
667 x 375
50 dpi
96 (default)
960 x 720
1280 x 720
96 dpi
100
1000 x 750
1333 x 750
100 dpi
150
1500 x 1125
2000 x 1125
150 dpi
200
2000 x 1500
2667 x 1500
200 dpi
250
2500 x 1875
3333 x 1875
250 dpi
300
3000 x 2250
4000 x 2250
300 dpi
350
3500 x 2625
4666 x 2625
350 dpi
400
4000 x 3000
5333 x 3000
400 dpi
Type in the figure for your preferred resolution into the box for Value data. For example, if you want PowerPoint to output images with 250 dpi, you have to type in 250.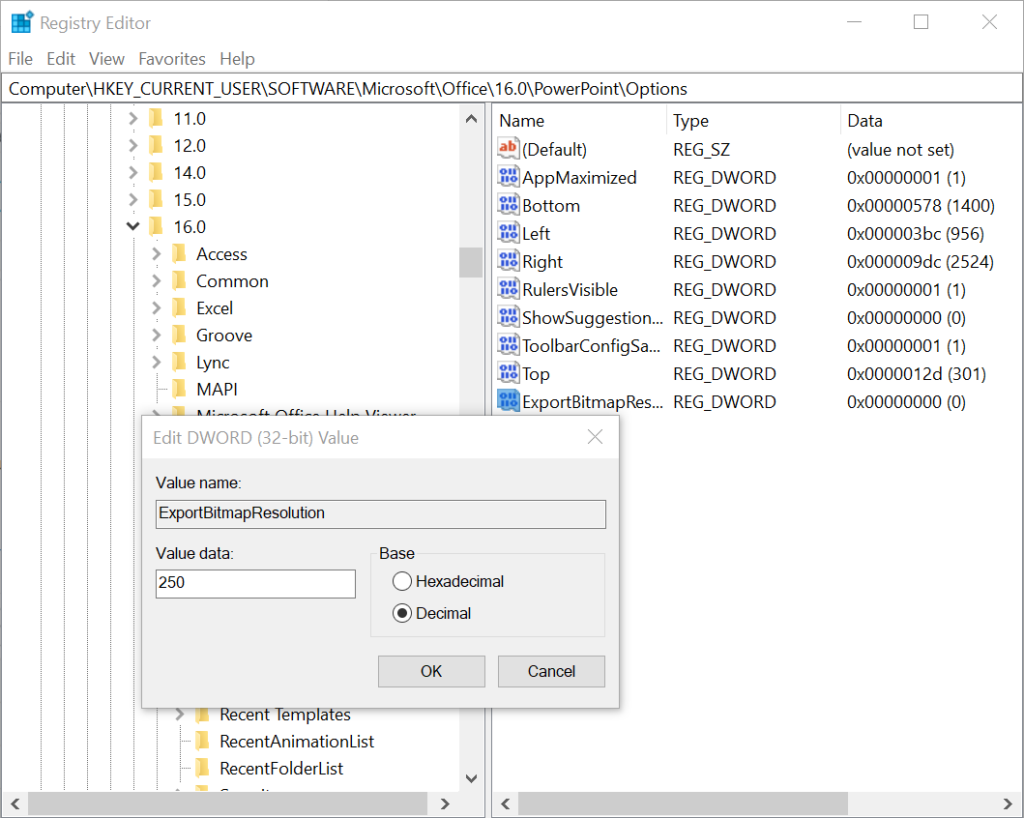 Click the OK button to save the new DPI setting.
Close the Registry Editor app.
Restart your PC.
Step 2: Export PowerPoint Slides as Images
With the right setting— one that forces the PowerPoint app to save slides as high-quality images—now in place, it is time you initiated the export task.
Follow these instructions:
Open the presentation (with slides) you want to export in the Microsoft PowerPoint app.
Go through File > Save As.
Click Browse.
Navigate to your preferred location for saving images based on the slides.
Click the drop-down menu beside Save as type to select your preferred image format.
We recommend you select the PNG Portable Network Graphics format. Alternatively, if you need images at the set DPI with sizes as small as possible, you can select the JPEG File Interchange Format.
Type in your preferred name for the images.
If you export a single slide, the image acquires the name.
If you export several slides, the folder to which the images are saved acquires the name. The slides are named in order of appearance (slide 1, slide 2, slide 3, and so on).
Click Save.
If you want to save a single slide (the one you are on currently) as an image, click Just This One. Otherwise—if you want to export all the slides in the presentation—click All Slides.
PowerPoint will save the slides as images and inform you that it has completed the operation.
TIP:
For your projects or applications in .NET, Java, C++, or Python, you may want to look into Aspose.Slides. This API allows you to converts slides in presentations or entire presentations to PNG images, JPEG images, PDFs, and other file formats.
Posted in
Aspose.Slides App Product Family