While Microsoft PowerPoint is the most popular application used to work on PowerPoint files, there are other tools that allow you to open and view a PowerPoint presentation on any device.
We understand that you may not always have access to Microsoft PowerPoint on your Windows PC or Mac. Or perhaps, you are on the go and need to view a presentation quickly on your smartphone (Android device or iPhone).
In this article, we intend to review Aspose PowerPoint Viewer—one of the best online tools for opening and viewing presentations on all devices—while showing you how to use it and answering important questions.
What is Aspose Presentation Viewer for PowerPoint?
Aspose Presentation Viewer is a free and easy-to-use viewer. It can open all sorts of presentations, especially Microsoft PowerPoint (PPT or PPTX) documents or files in the OpenDocument Presentation (ODP) format.
How to Use the Presentation Viewer for PowerPoint
Go to Aspose Presentation Viewer page at https://products.aspose.app/slides/viewer
Click Drop or upload your file.
Select the PowerPoint file you want to open and view.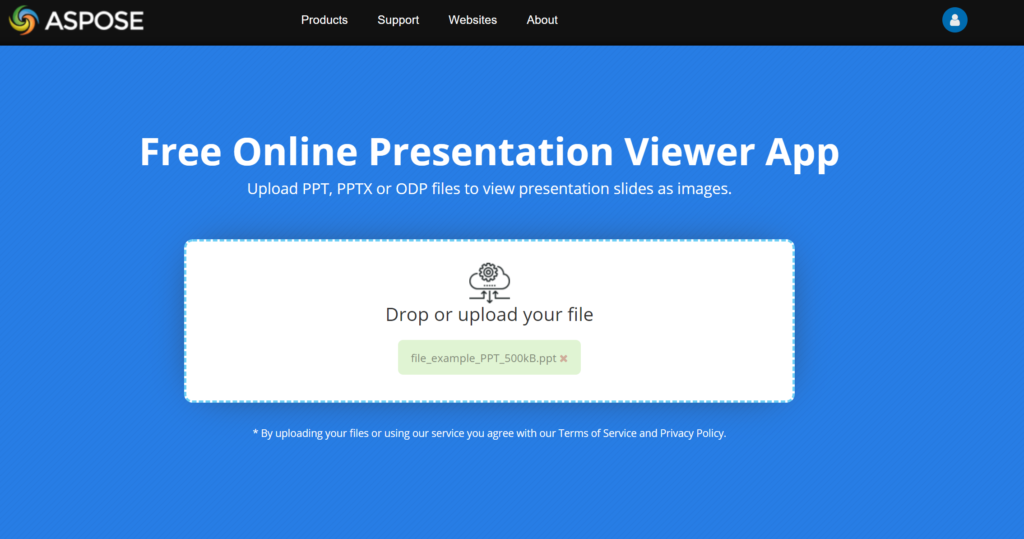 Wait for your browser to upload your file.
View or go through your presentation.
Why Should I Use the Presentation Viewer?
Aspose Presentation Viewer provides several features that make for easy viewing and comfortable presenting.
Simple slide show controls
Using the timer function at the top-right corner, you can configure your presentation to move through its slides automatically (without any input from you).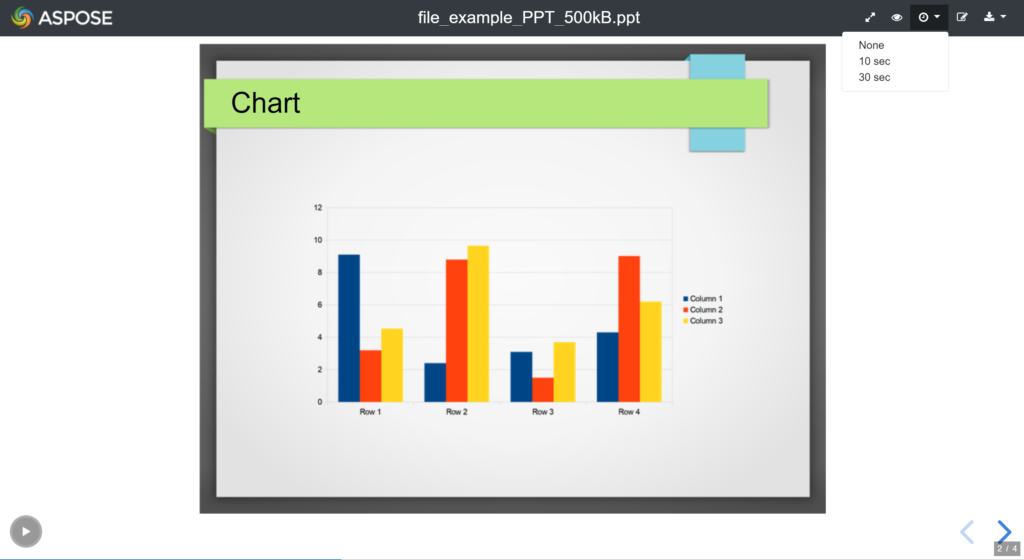 Once the show starts, you can pause it by clicking on the button at the bottom-left corner.
Intuitive keyboard shortcuts
These keyboard shortcuts should make your experience with Aspose Viewer a pleasurable one:
To switch between the Overview mode and regular mode, use the Escape or O key.
Press F to go into Fullscreen mode. Press the Escape key to leave Fullscreen mode.
To zoom in (around any area), press and hold down the Alt button and then click on the spot. To zoom out, repeat the same step.
Quick links to additional features
Want to make some changes to your presentation?
Aspose Presentation Viewer allows you to quickly open your presentation in an editor—click on the Open in Editor icon (at the top-right corner).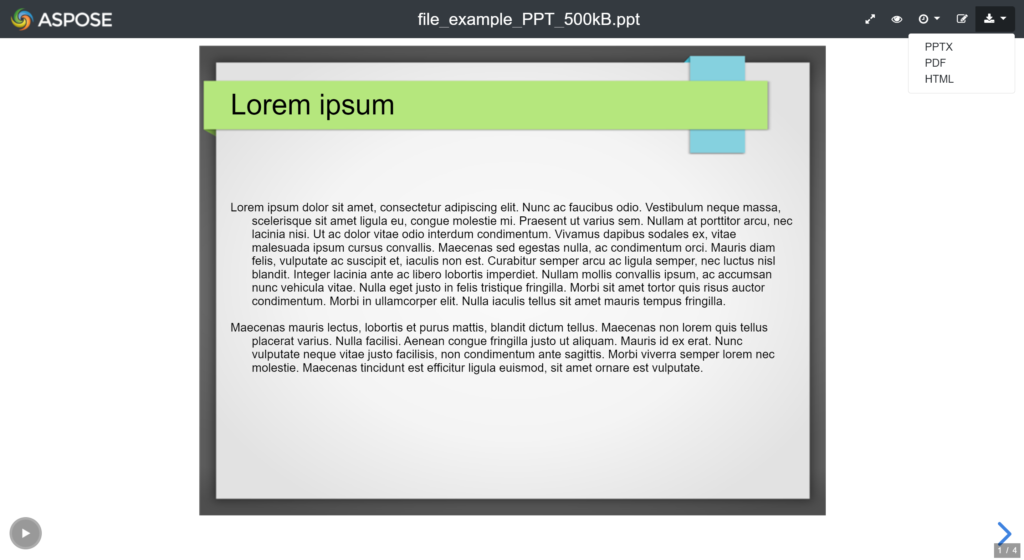 Need your presentation in another format?
The converter function has you covered—simply select the new format (PPT or PPTX, PDF, or HTML) to which you want to convert your presentation. Your presentation will then be saved in the specified format.
Touch navigation
When you use Aspose Presentation Viewer on any touch-enabled device to open or view a presentation, you get to navigate through the presentation's slides by swiping horizontally.
Frequently Asked Questions (FAQs)
Is the Aspose Viewer free?
Yes, Aspose Presentation Viewer is completely free to use. Aspose Viewer is powered by Aspose.Slides API, a leading Presentation API used in many organizations and industries.
Is the PowerPoint Viewer for mac?
Yes, you can use Aspose PowerPoint Viewer on your mac.
Can I use this PowerPoint viewer on my PC?
Yes, you can use Aspose PowerPoint Viewer on your PC or Windows device. This Viewer works on all platforms or devices running Windows, Mac OS X, Android, iOS, and so on.
Essentially, Aspose Presentation Viewer is a free PowerPoint viewer for the web. You can consider it an alternative to the viewer in Microsoft PowerPoint.
What do I need to use Aspose Viewer?
On any device, a decent internet connection and a browser are all you need to use Aspose Viewer to open a Microsoft PowerPoint file or any other presentation document.
Perhaps, you came here to learn how to view PPT without Office. If you need a PowerPoint Viewer without Microsoft PowerPoint, you can always use Aspose Presentation Viewer.
Posted in
Aspose.Slides App Product Family