JPG or JPEG is easily the most popular file format for images or pictures. JPG sees a lot of use in presentations, videos, websites, social media, and other platforms. For this reason, you are more likely to perform tasks involving JPG images than any other picture format.
In this article, you will learn how to merge JPG photos.
Why Merge JPG Files?
Since JPG is the most widely used format for photos, people often have to combine two JPG images to achieve a particular goal. By merging JPG files, you get to
Combine information. For example, you may decide to merge two food photos together to get a single image (food menu).
Obtain more visually appealing images. For example, you can place your images side by side (vertically or horizontally). The result is often more appealing visually.
How Do I Combine JPG Photos?
There are actually very few programs that allow you to combine JPG photos to obtain a single image. And even when you use the applications that do—for example, Paint or Paint Pro on a Windows PC—you will find yourself going through tedious, complicated processes to merge JPG to JPG.
When it comes to combining JPG photos, the most practical method requires you to use an online service for merging images. Aspose provides web apps that allow you to quickly merge JPG to JPG online without complications.
To merge JPG photos online, use Aspose JPG Merger.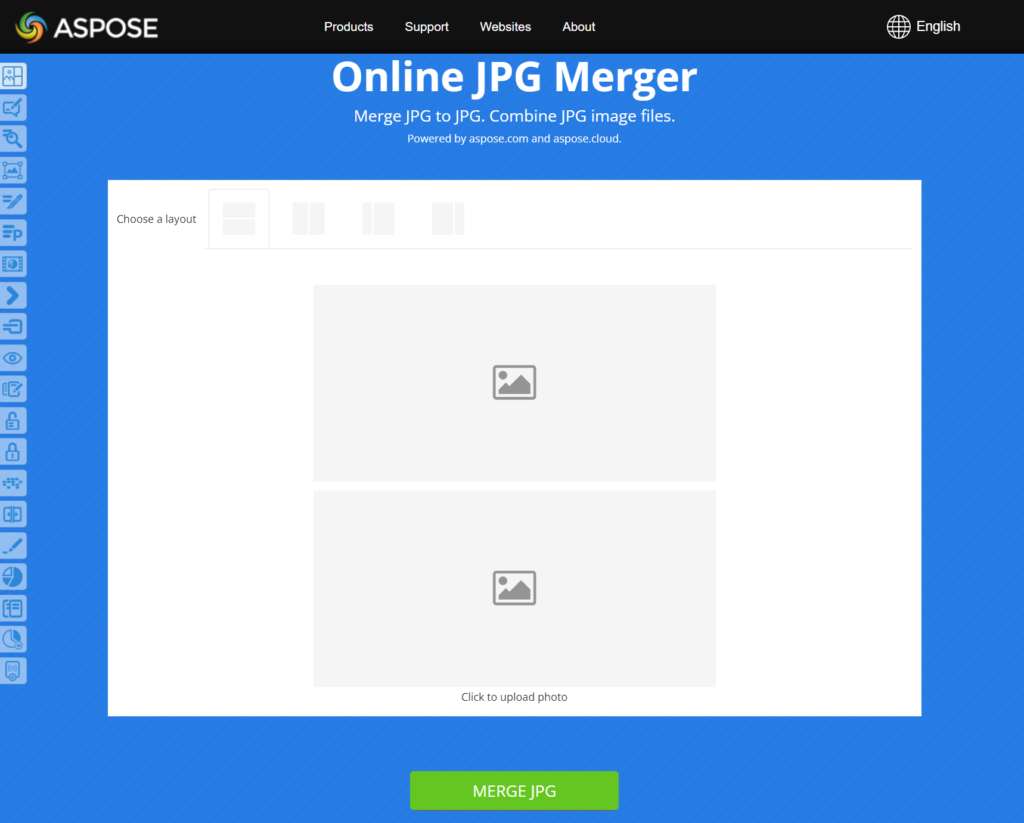 When you merge JPG files using the online service we recommended, you get to choose from different merge photos.
Vertical merge. For example, you can combine 2 JPG photos vertically—one image is placed on top and the other at the bottom—to obtain one picture.
Horizontal merge. For example, you can combine 2 JPG photos horizontally—one image is placed on the left side and the other on the right side—to obtain one picture.
You can select other horizontal merge modes with variations on what parts of the images are shown in the resulting JPG photo.
Aspose provides free web apps that allow you to merge JPGs, make photo collages, and create photo grids in as few steps as possible. This is how you use them:
Upload the files you want to merge or use in a collage (or grid).
Select your preferred layout.
Click the required button.
You can then download the result.
The JPG merger, collage maker, and photo grid maker are essentially web apps accessed from web browsers. You can use them on any platform (iOS on iPhones and iPads, android devices, Windows on PCs, Macs, Linux, and others).
How Do I Merge JPG to PDF?
Besides merging JPG to JPG, you may find yourself having to combine JPG photos to obtain a PDF file. In fact, the JPG to PDF merge is a relatively popular operation.
Unlike the JPG merge process, Windows provides a built function—Microsoft Print to PDF—that allows you to combine multiple JPG files to obtain a PDF.
To use merge JPG to PDF or convert JPG to PDF in Windows, go through these steps:
Open the File Explorer app.
Go to the folder containing the JPGs you want to merge or convert to PDF.
Select the JPG photos you want to merge—press (and hold down) the CTRL key and then click the photos.
Right-click any of the highlighted images.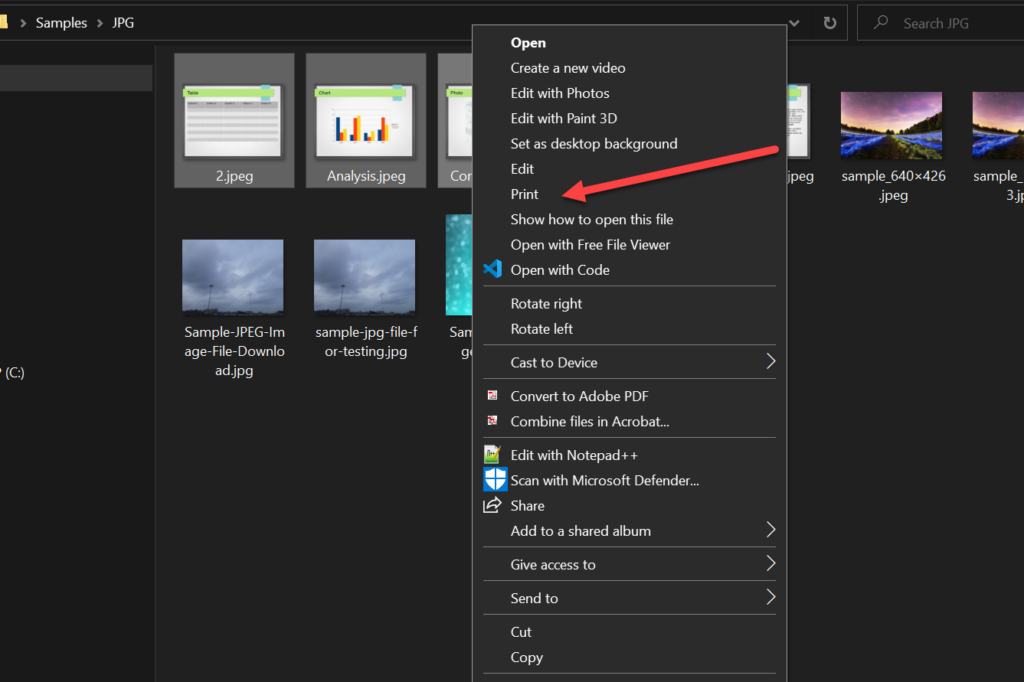 From the context menu, click Print.
On the Print Pictures window, click the drop-down menu for Printer: and then select Microsoft Print to PDF.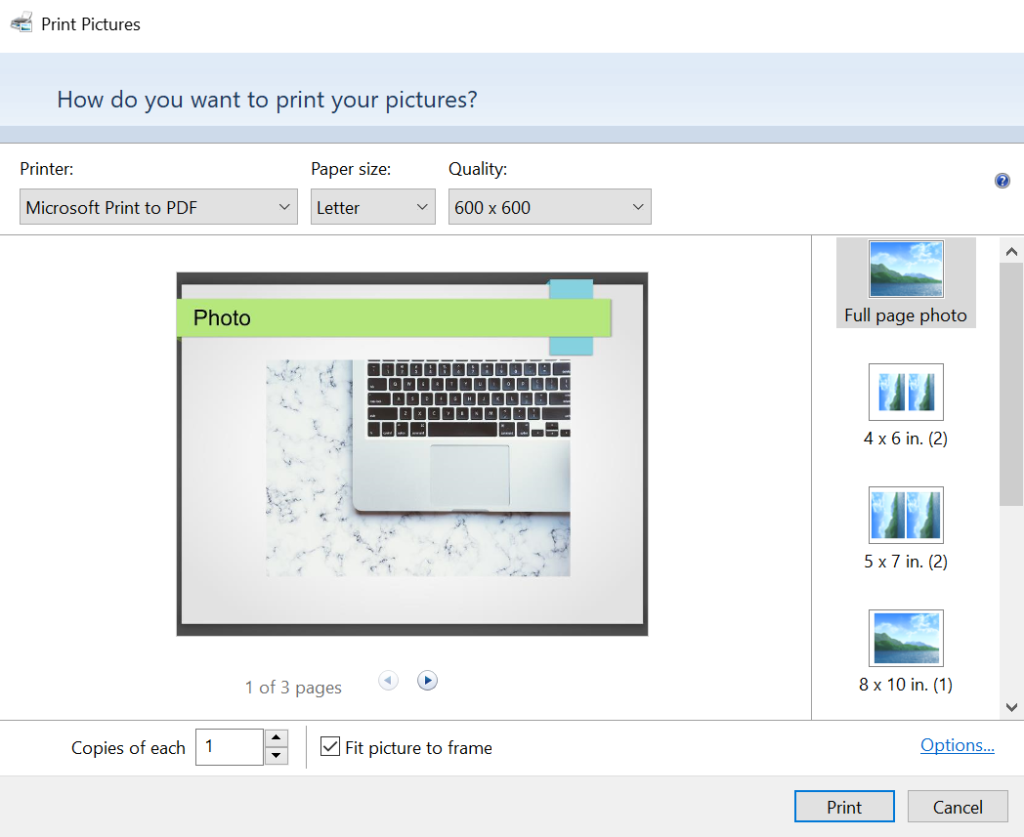 If you want to use certain print options (if you know what you are doing), make changes to the parameters now.
Click the Print button.
Go to the folder where you want to save the PDF and type in a name for the file.
Click the Save button.
That's it. At this point, we believe you now know how to merge JPG photos in different ways (JPG to JPG, JPG to PDF, etc.) online and on a computer.
Posted in
News